Aoba Restaurant 青葉餐廳
台北市中山北路一段105巷10號
ZhongShan N. Rd. Sec. 1 Lane 105 No. 10. Taipei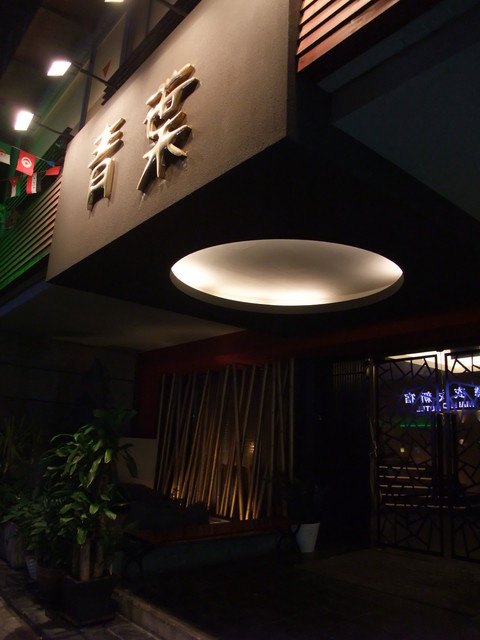 Aoba or Chin-Yeh as it is pronounced in Mandarin is one restaurant I almost never miss on my trips back to Taiwan . My family has been eating here for as long as I remember, so on top of the good food, I also like to come here for old time sakes.
To start, Aoba is a Taiwanese cuisine restaurant.
Taiwanese cuisine? You mean like popcorn chicken, oyster pancake and beef noodle??
Not exactly, and it is probably a good chance for me to clarify the common myth.
In Taiwan , 'popcorn chicken', 'oyster pancake' one found in night markets are called 'small eats', or 'snack'. They're not considered 'real' food. And while some of the best beef noodles and dumplings (xiao long bao) can be found in Taiwan, these type of food were brought over by the mainland Chinese from various China provinces at the end of WWII, so strictly speaking, they're not Taiwanese cuisine either (here's a little trivia, Taiwan is a warm, tropical island, meaning wheat is not a native produce in Taiwan, therefore dishes made of flour most likely originated from where else in China).
The foods at Aoba are the kind that my parents grew up with, made with local Taiwan ingredients.
Aoba is a chain restaurant, with 3 locations throughout Taipei, but my family always eats at this original store, hidden in a narrow alley by ZhongShan North Rd. This store actually moved a few hundred feet away from the old location last year, the new decor is much more contemporary and welcoming.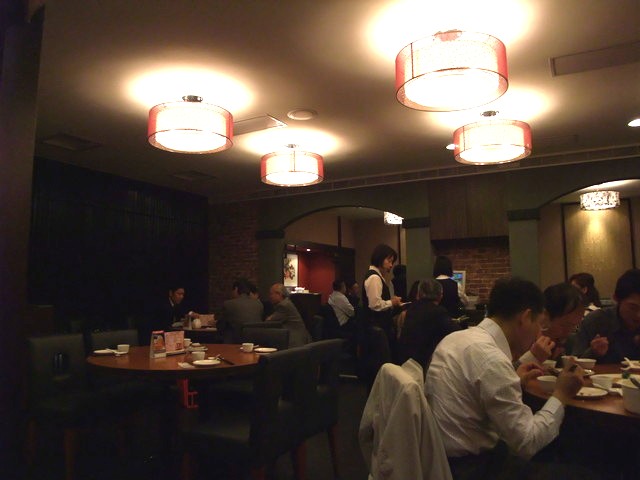 Aoba's other two locations have some the same traditional dishes, but seem to offer more 'creative' ones. Never been to the other two, I'd like to keep this review only to the ZhongShan North Rd. location.
While a bit hard to find, it doesn't seem to stop the flock of Japanese businessmen from packing out the restaurant. I'm not sure how the Japanese learned about this place, but this seems to be a must-stop restaurant for the Japanese tourists next to Ding Tai Fong.
The following are dishes what my family typically order, nothing fancy, but always a feast for me!
(as a note, all dishes at Aoba are fairly small, all these food are for 3 people)
Braised Pork with Soy Sauce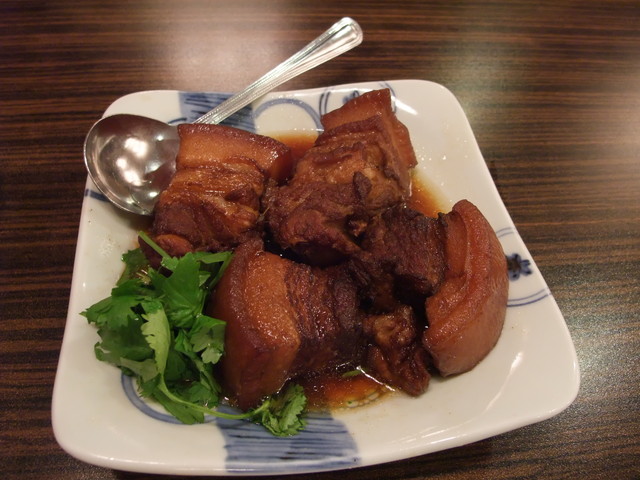 Warning: This is a very FATTY dish. Yet it is SOOOOO GOOOD! As seen in the picture, half of the meats are fat. The meat was slow cooked in soy sauce and sugar for a long long time, so that the fat part becomes tender and buttery. My favorite way of eating this? Take a bite of the fatty meat and a big scoop of white rice. HEAVENLY!!! I have to admit, I can only eat at most two pieces of this in one night before the fat gross me out. So we usually take the rest of the dish home for dinner next day.
(There is similar version of this dish that often confuses people called Don-Puo Meat. Don-Puo Meat originated from China , they can be found in other Chinese restaurants that serve Shanghai cuisine. When compared to the Taiwanese version, Don-Puo Meat is much heavier in taste, and the sauce is thick).
Fried Oyster with Vegetables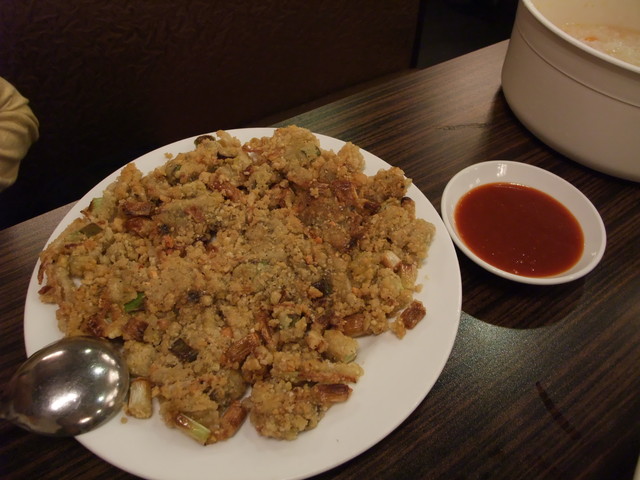 This dish's got some resemblance to the night market version of "Oyster Pancake" but deep fried instead. For those like Taiwanese small oysters, you'll definitely love this dish! The dipping sauce on the side is a sweet and a bit spicy. As you'll see, most sauces found in Taiwanese dishes are on the 'sweeter' side.
Pan Fried Sea Clams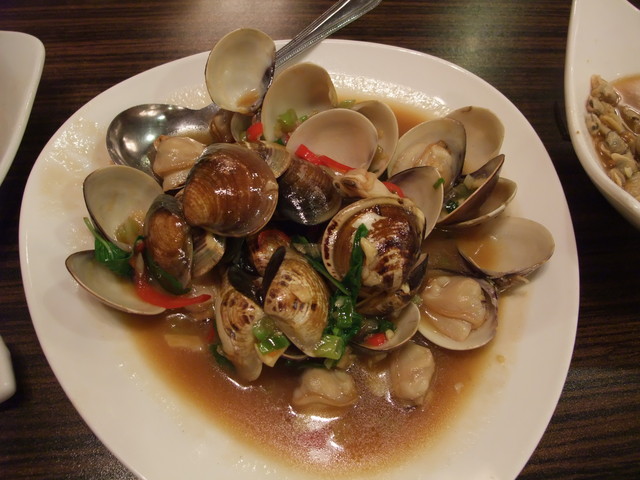 For those familiar with Taiwanese cuisine, this dish has all the familiar ingredients: basil, garlic, and chili. Flavorful but mild. The key to this dish is fresh clams.
Braised Pipies Meat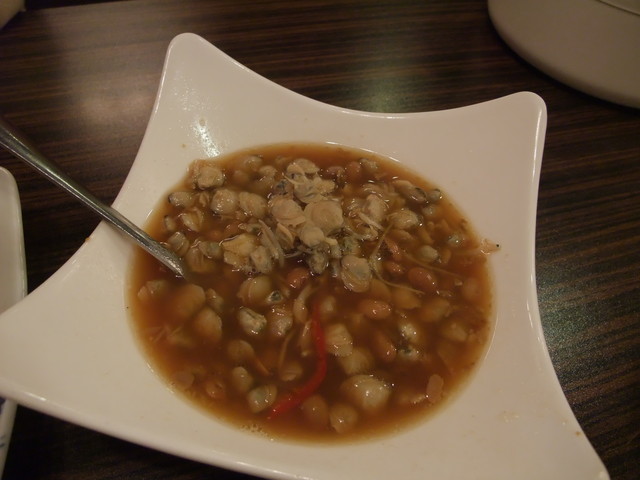 The picture doesn't look particular appetizing, and the pearl-sized clams are probably scary, but this is one of those dishes that I can gulp down a whole bowl of rice with. Steam cooked in miso, I wouldn't be surprised if this dish came about during Japanese Ruling Period. This dish is quite light, good balance with the Braised Pork, I like to eat these two dishes togeter.
Sweet-Potato Congee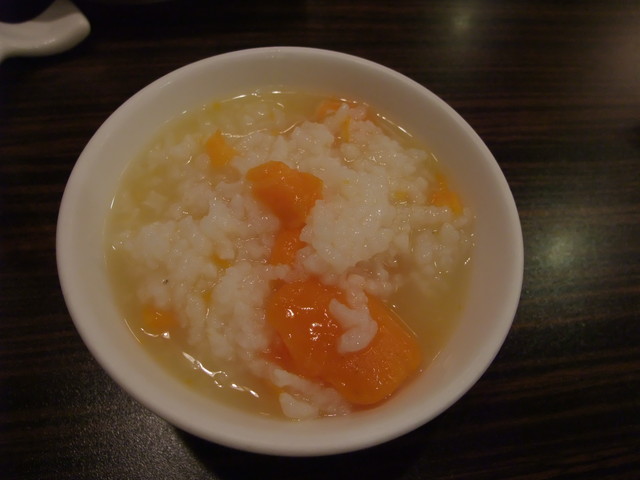 Normally after ordering the dishes, the waitress will ask if you'd like sweet-potato congee or white rice. The waitress will almost always recommend the congee, and about 80% of the customers go with the congee option. This is because 50, 60 years ago, when my parents were growing up, white rice was expensive while sweet potatoes were cheap. So soupy rice cooked with lots sweet-potato was THE staple found on most Taiwanese dinner table.
Nowadays, it is the opposite. White rice is easy to make, but peeling sweet-potatoes and hours of congee cooking is almost non-existent in the modern Taiwanese household. It is no wonder then, that customers like my parents prefer the nostalgic sweet-potato congee, especially since Aoba always have the sweetest sweet-potato slow cooked to the core. As for me, growing up in an entire different era from my parents, sweet-potato congee? Ok, a few spoon is good, but I gotta have my bowl of white rice.
Hopefully this review demystifies Taiwanese cuisine for everyone. Besides Aoba, there are many other Taiwanese cusine restaurants, including another chain with a similar name called Shin-Yeh (http://www.shinyeh.com.tw/). Since I've never eaten at Shin Yeh, can't quite compare the two, but I do know Shin-Yeh has a location on the 86th floor of Taipei 101. For those looking a nice view might not be a bad place to try.
For those that have tried both Aoba and Shin-Yeh, drop a me a comment, let me know which one you think is better!
Direction from MRT:
Taipei MRT ZhongShan Station, Exit 3