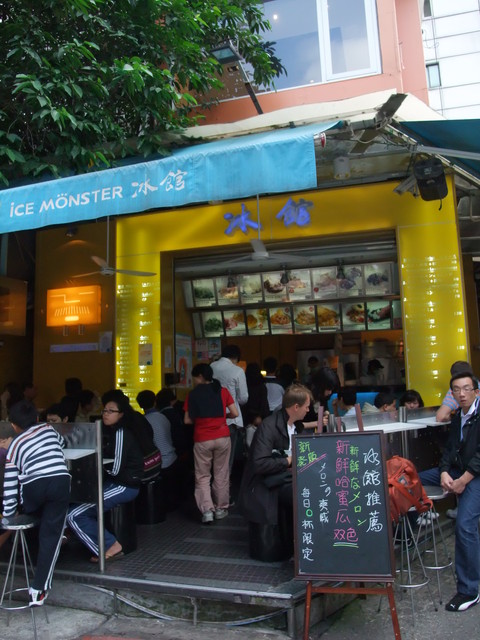 Ice Monster
http://icemonster.com.tw/main.htm
For those who have not heard, one of Taipei's most well-known shaved ice shop Ice Monster closed unexpectly a month ago.
At the time I'm writting this article, there is no words on when Ice Monster might reopen again.
The reason for closure is a story all too familiar to anyone in the world, the owner after some 20+ years of marriage,
decided to trade-in his wife for a younger one. According to the news, the unfaithful husband decided that instead of paying the alimony
(half the sales of the shave ice store), he closed the store all together
( so …you want half of my money? how about we both get none!)
While this may all seem like a normal family dispute, it has been the headline of Taiwan media for weeks.
TV news showed disappointed tourists lingering outside the closed Ice Monster, and store owners from nearby
complaining about their loss of business because of the loss of foot traffic normally brought in by Ice Monster.
As for me, I'm just glad I least got to visit Ice Monster again before they closed down….
It is probably hard to believe that this famous shop has a total seating area of less than 100 sq. feet in an oddly shaped street corner.
This picture was taken November, low season for shave ice, yet almost every seat was taken.
During the summer, as one can imagine, the line outside this store alone is story worth writting home.
The other reason why Ice Monster is so popular's probably due to its close proximity to Taiwan's #1 must-visit restaurant, Ding Tai Feng.
You may find about this mouth-watering dumpling place in one of my earlier post~
Because Ding Tai Feng is about 5 minute walk from Ice Monster, it is almost a ritual that every tourist in town follow the
Ding Tai Feng —–> Ice Monster gourmet trail.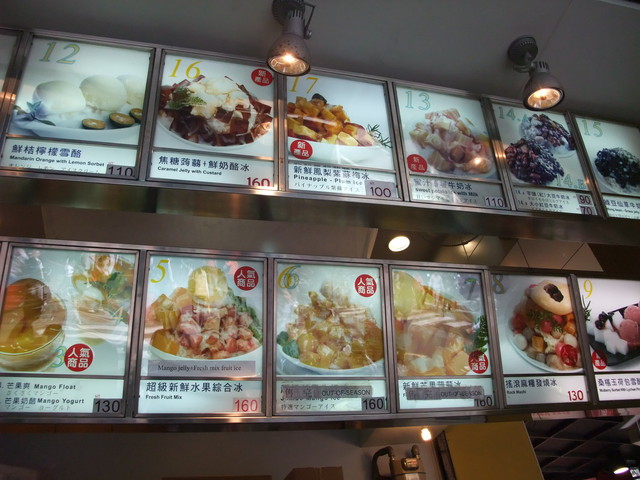 Ice Monster's menu is consisted of about 20 different fruit shave ice. Of them all, the most famous is their mango shave ice. In fact, one might say they are the 'inventor' of mango shave ice. Their mango shave ice is so wonderfully tasty that they are practically on every Japanese guidebooks on Taiwan. I love how they make the mango shave ice with local Taiwanese-breed 'Ai-Wen' mangos instead of mangos from Thailand. Ai-Wen Mangos are very very sweet and juicy but unfortunately only in produce during the summer. Which is why I didn't get to have any on my last trip
Instead, my family and I ordered Ice Monster's winter special of Melon Shaved Ice (cantaloupe, honeydew, and cantaloupe sorbet) and Combination Shaved Ice (strawberry, kiwi, mango jello, and mango sorbet).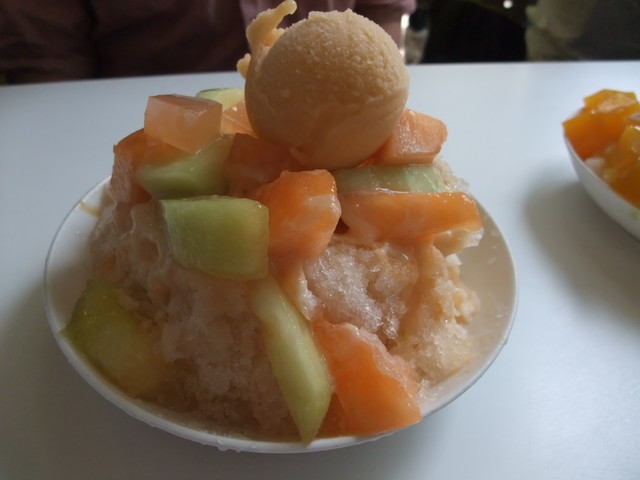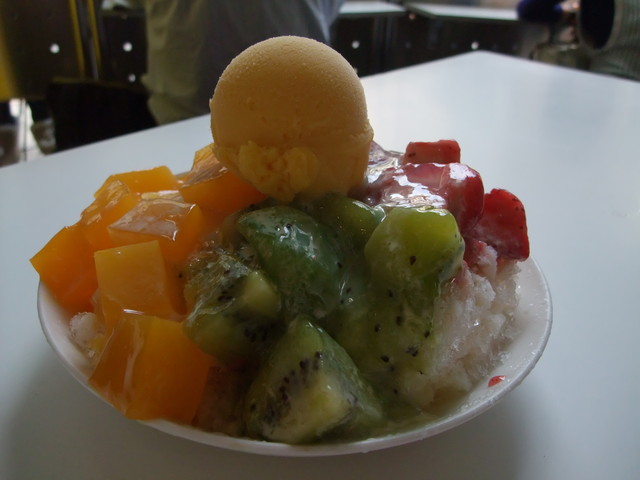 The generous portiion is not only enough for two people to share, but also topped with more fruits than a day serving recommaned by FDA.
So, besides the large size, what else is special about Ice Monster?
After years of going to this place, I have concluded three key factors to their success:
1) fine-grained ice. Fine grained ice is smooth on your palate, and absorbs syrup better, so that each scoop of ice is full of flavor.
2) super fresh, sweet and generous amount of fruit.
3) fruit syrup. Most shave ice place in Taiwan use either condensed milk or brown-sugar syrup. Ice Monster uses special syrup that they make. Mango Shave Ice uses mango-flavored syrup, melon shave ice with melon-flavored syrup, and so on.
I truly hope that the owner and his ex-wife resolve their issue and reopen soon.
A trip to Taiwan's just not the same without it!!!
P.S. for those wondering where to mango shaved ice in Southern California, you can probably find them at Guppy Tea House (http://www.myguppyteahouse.com/) and Tea Station (http://teastation.us/) when mango's in season. Although I think they only bear minimal resembelence to the real thing. Both Guppy House and Tea Station also sell other Taiwanese-style shave ice.