UPDATE (Feb 19, 2010) Even though the weather report says it is going to rain tomorrow, the ceremony is indoor inside a church, and the reception is in a tent. So don't worry about getting wet!!! But please do continue to pray for the weather!!
UPDATE (Jan. 30, 2010) Menu item and parking instruction at Tivoli Too added
Welcome to our wedding page!
This is where you'll find all the information and the inside scoop that we couldn't fit into the invitaion!!
If you have any questions, leave me a post, Chris and I will answer them here.
The website will be updated as time goes along, so make sure you keep checking!
For those wondering why this site looks a little unusual, it is because this is also my personal blog, where i keep a journal of all yummy food around the world. Unfortunately, if you don't read chinese, there are only a limited number of articles in english~~ but hey, who cares about what language I ramble in when the pictures say it all?
Why are we not using a wedding website like The Knot? Because I am lazy….. If I can update and check everything in one, why do two?
(Talking about Service Oriented Architecture…)
哈囉! 這個網站大家應該不陌生吧? 很多都是我美食部落格的忠實讀者才對
甚麼? 第一次來?
那記得這篇看完去逛逛其他的
以後也要常來幫我衝人氣喔
所有婚禮的大小細節大家都可以在這裡找到
有問題也歡迎留言
都會一一解答
Engagement Pictures (婚紗照)
Our engagement pictures are here!!! Check it out
http://picasaweb.google.com/yuan.maomao/EngagementPictures?authkey=Gv1sRgCNLKibq0gI3nrQE&feat=directlink
辛苦照像照到快昏倒的婚紗照出爐啦! 請點上面
Gift Registry
We are registered at
Crate and Barrel
http://www.crateandbarrel.com/Gift-Registry/Guest/ViewRegistry.aspx?grid=4417110
Bloomingdale's
http://bloomingdales.weddingchannel.com/gvr/guestregistrydetail.action?retailer_registry_uid=314747703&listby=dept&cm_sp=Affiliate-_-BWC-_-Bloomingdale%27s
Ceremony (婚禮)
Febuary 20, 2010 11:00AM
South Shores Church
32712 Crown Valley Parkway, Dana Point, CA
southshores.org
At this point (we're still working on the program), the ceremony is expected to run for 45 minutes. After that, another 30 minutes of picture taking with family and friends.
I'm sure you'd all love to get to the reception early and start eating, especially since it will be a late lunch (we wanna eat too!!!).
To do so, it would require the ceremony to start on time at 11!!
婚禮準時十一點開始
(我不想餓昏~~~~大家也不想吧?)
Cocktail (茶點)
Sorry, as much as we want to provide snack and beverage after the ceremony, South Shores Church does not allow us to serve any food or drink on their property.
If any of you have resentment about this, complain Chris, free Starbucks on him 🙂
舉行婚禮的那個教堂不准我們供應任何茶點, 所以真的是很抱歉~~
我本來還想請去梅園訂些蚵捲甚麼的~~~~
Reception (婚宴)
February 20, 2010 1:00PM
Tivoli Too
777 Laguna Canyon Road, Laguna Beach, CA
See map below for direction from South Shores Church to Tivoli Too.
It is only a 7-mile drive, but there are lots of traffic lights on PCH, so be prepared to take up to 20 minutes to get to Tivoli Too.
婚宴地點的停車位有點難找, 請大家注意以下的停車資訊. 停車場的費用我們已經付了, 只要跟停車場人員說明是來參加婚禮的就可以了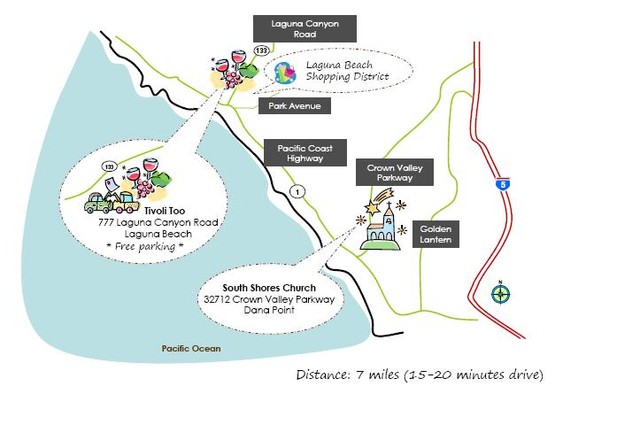 Direction from South Shores Church:
1. From South Shores Parking Lot make a left onto Crown Vally Parkway, toward the ocean
2. Make a right onto Pacific Coast Highway
3. Make a right onto Broadway (street name changes to Laguna Canyon Road later)
4. Right after passing the traffic light after the cross street "Forest Ave", turn right into the parking lot with the sign that says "Public Parking" (see pic below)
(i.e. there is one traffic light for Forest Ave, and the one after that. There is no street name associated with the traffic light. You'll just have to recognize the parking lot from the picture)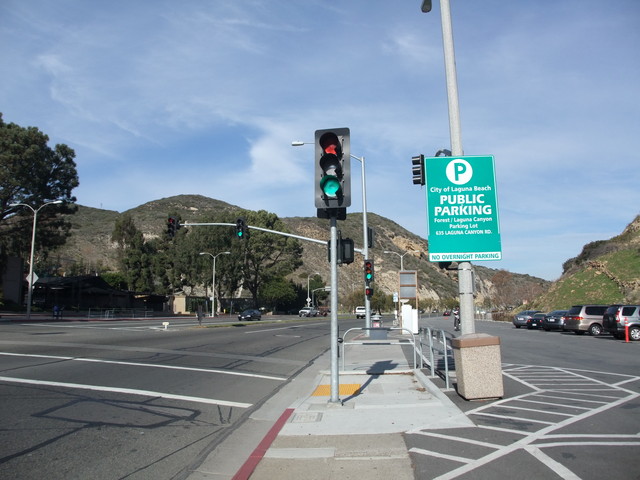 5. Tell the attendant that you are there for a wedding at Tivoli Too. We have already paid for the entire parking lot, so DON"T PAY THE ATTENDANT!!!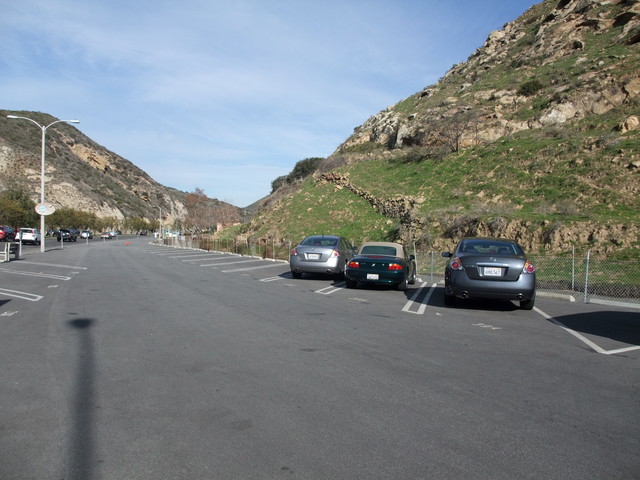 6. After parked your car, continue walking east for a few hundred yard, the salmon-colored building below is Tivoli Too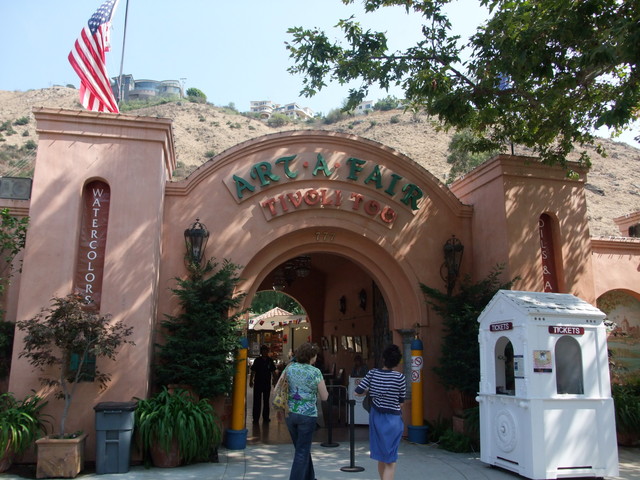 Parking has already been paid for, so don't do street parking!
從婚禮的教堂開到婚宴的地方大約開車15-20分鐘
請停外面的停車場(面對Tivoli Too右手邊), 整個停車場我們都租下來了, 不用找路邊停車
Menu (今天吃….)
Yup, you read the invitation correctly. Lunch will be a buffet of grand hors d'oeuvres~
午餐是採自助式, 有各式各樣的小菜, 咖啡茶點, 酒, 香檳, 啤酒 (素食者請盡早告知, 可另外準備)
自助式的目的是希望大家可以在類似下午茶般的輕鬆氣氛下用餐交談
chris 和我也可以多點機會和好久不見的親朋好友打招呼
Top Sirloin
Roasted Breast of Turkey
Chicken and Shrimp Egg Roll served with Plum Sauce
Swedish Meatballs
Assorted Miniature Quiche
Fresh Fruit Fantasy with Chocolate Fondue
Chicken Drumlets
Bacon Wrapped with Dates
Pork Pot Stickers with Seasame Dipping Sauce
Weddings are one of those rare occasions where friends and families come together, some even travel a long distance~
We really want to spend the time to talk to each of you (and catch up the gossips~), which is we felt buffet-style luncheon is the best way to allow us to walk around and mingle~
Tivoli Too has promised me that even though they are hors d'oeuvres, no one will go home hungry~
The hors d'oeuvres will be constantly replenished throughout the day.
*Wine, beer, and champagne also included.
**If you are vegetarian, let me know as soon as possible, I can order a side vegetarian dish for you!
Seating Chart (座位)
No seating chart, because we're expecting everyone to be mingling, and getting food/ drink constantly.
Sit wherever you want!
but of course~ if the bride and groom want your seat….
婚宴沒有劃位子, 坐哪裡都可以
After Reception
After reception of course you're on your own~~
But since you're here at the beautiful Laguna Beach, take a stroll and watch the sunset by the coastline!
Laguna Beach is one of Chris and my favorite places. I mean beach for Chris and shopping for Tanya, what's there not to love
Laguna Beach is also full of top-rated restaurants. I haven't ate them all, but have a few to suggest.
1. Las Brisas
361 Cliff Dr. Laguna Beach
http://www.lasbrisaslagunabeach.com/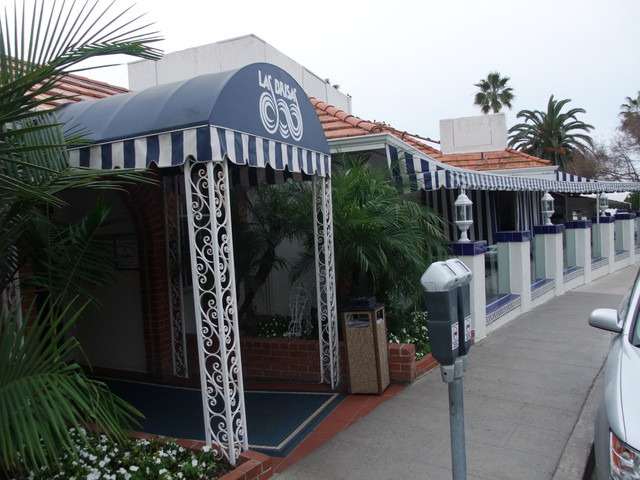 Las Brisas is known for their breakfast/sunday brunch buffet. They have the most awesome view and unbelievably delicious waffles.
And did I mention the made-to-order omeletts?
Never had their lunch or dinner, but I heard they're quite impressive as well.
If you are staying in the area overnight, gotta check this place out.