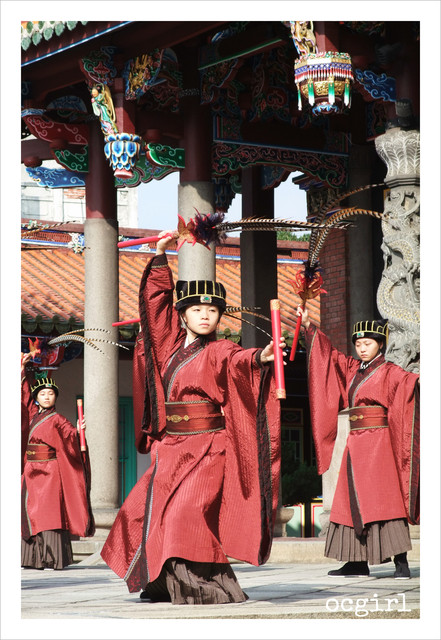 台北孔廟
台北市大同區大龍街275號
捷運:淡水線圓山站下車後,由2號出口步行10分鐘。
http://www.ct.taipei.gov.tw/
Taipei Confucius Temple
No.275, Dalong St., Datong District, Taipei
MRT: Yuan-Shan Station, Exit 2
http://www.ct.taipei.gov.tw/en-us/
這幾天偶像劇"我可能不會愛你"奪了好幾項金鐘獎讓我熊熊想到還有一篇跟這有關的文章還沒寫呢!
Despite being born and raised in Taipei, I only learned of the Taipei Confucius Temple from the reality show "Amazing Race" last year.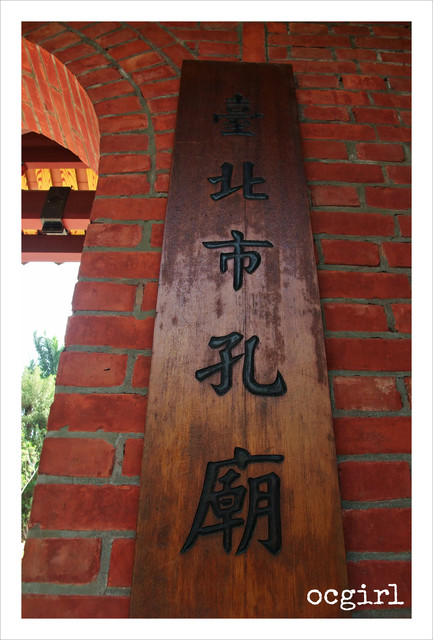 孔廟跟"我可能不會愛你"有甚麼關係哩?
趁大家正在努力回想之時
ocgirl就先來講講自己跟孔廟的"淵源"吧
For those who are not familiar with the show, it showcases several teams competing for a grand prize. Each episode takes place at a different spot in the world. In the one particular episode of Taipei, most of the filmed scenes were well-known touristy areas such as Ximen Ding,Chian Kai Shek Memorial, etc., The only one I did not recognize was the "Taipei Confucius Temple".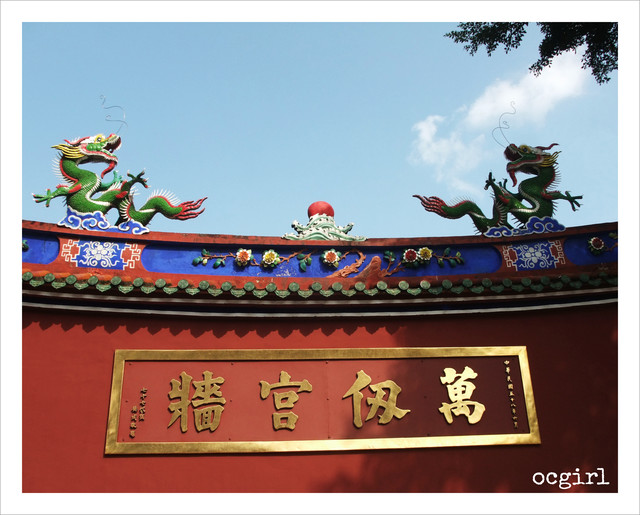 身為正港台妹的我
第一次知道孔廟這個地方竟是因為看了一個叫Amazing Race的美國節目
這個節目簡單的說就是幾對參賽者到世界各地過五關斬六將 (沒特別好看….)
其中一集就是台北
取景的地點都是只要是台灣人就不可能不知道的西門町、中正紀念堂等
但其中一關台北孔廟我卻聽都沒聽過
非常納悶為甚麼節目製作會選這個地方….
Ok, I know who Confucius is, and I know Confucius is worshipped in many chinese communities. But, what's so specificial about this particular temple?
剛在Youtube找了一下, 好像台灣電視有播出喔, 叫做"驚險大挑戰"
孔廟出現在21分鐘
Here's clip from the show Amazing Race, the Confucius temple appears about 21 minutes into the video
不久之後"我可能不會愛你"大紅
ocgirl也跟著淪陷….
又再度看到"台北孔廟"
A few months later, I saw the Taipei Confucius Temple again in a popular Taiwanese TV Drama "In Time With You" (for those interested in Taiwanese pop culture, check it out if you can find one with english subtitle online, just a word of caution, it's pretty addicting).
想起來了嗎?
孔廟就是程又青與丁立威相識的地點
故事中丁立威被在練習教師節舞蹈的又青剎到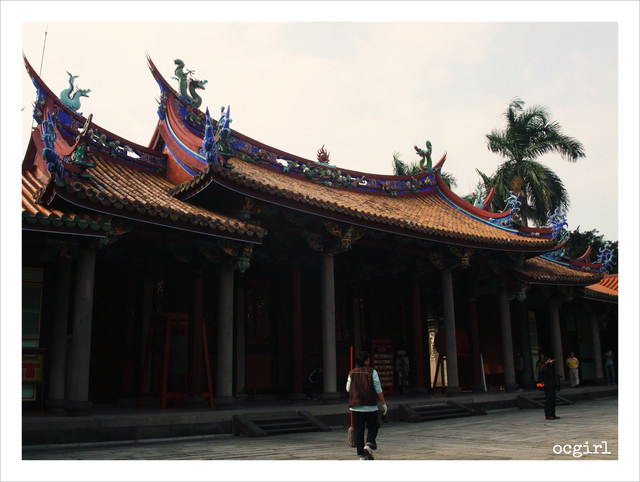 In the TV Drama, the main girl character Yo-Chin met her bad boy boyfriend while practicing for a dance at the Confucius Temple. Not only did the temple caught my attention once again, this time I was mesmerized by the eccentric dance that Yo-Chin was dancing to.
這次不只對孔廟有了興趣
又青跳的那個舞更是稀奇
(抱歉找不到影片…但應該是出現在第六集)
去年回台灣特地上網查看
呵~ 孔廟好像還真是小有名氣哩
而且原來又青跳的那種叫做"雅樂舞"的舞蹈不是只有教師節才有
平時也固定有表演
(演出info: http://www.ct.taipei.gov.tw/zh-tw/C/News/Msg/1/1%7C1/97.htm)
Last year, while visiting family in Taiwan, I decided to check the place out online.
Turned out, the dance that caught my attention was performed weekly. So I decided to be a tourist in my hometown for a change.
難得回台灣就去看看吧!
ocgirl有回台灣都是度假
很少中午以前出門
為了看上午十點的雅樂舞一大早從永和跟著上班族擠捷運擠到圓山
Taipei Confucius Temple is a bit far from where my family lives. In order to make it to the Temple for the early morning show, I had to take the MRT with the rest of the commuting Taipei-ese.
對了ocgirl跟oc爸媽說想去孔廟時
oc爸媽滿臉疑惑的.反問…"甚麼孔廟? 沒聽過….."
難怪我會不知道
一大早來到孔廟外頭已經停了好幾台遊覽車
大陸客、韓國客、日本客都有
Upon arriving at the temple, there were already several tour buses. Quite a popular tourist spot!
不過至於孔廟到底有名在哪就請大家自己上官網看了
ocgirl對廟宇完全沒研究, 實在說不出所以然來
I am no expert in Taiwanese temple architecture, but the official website has some pretty good overview of not only the temple itself, but also about Confucius teaching, and confucius influence other aspects of Chinese/Taiwanese culture.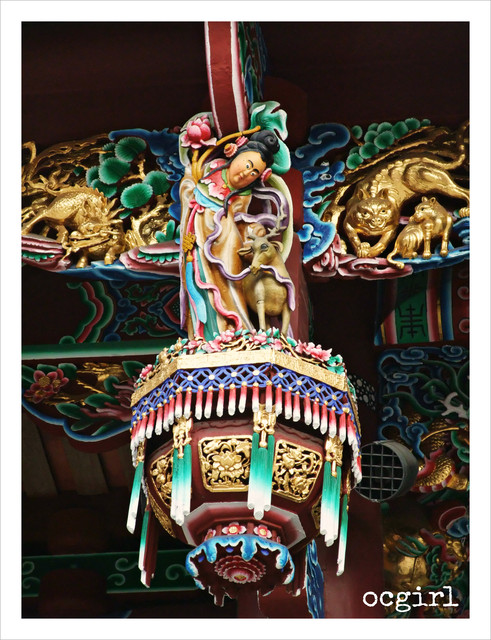 事實上這是ocgirl的部落格裡第一次出現台灣廟宇這樣的題材呢
ocgirl家是基督徒, 幾乎沒甚麼會去廟的機會
更不要說是拿相機拍攝廟宇了
老實說有點苦手
照片就隨便看看吧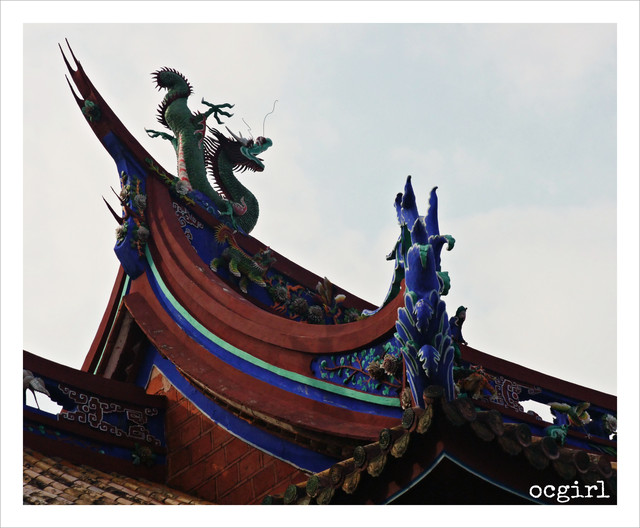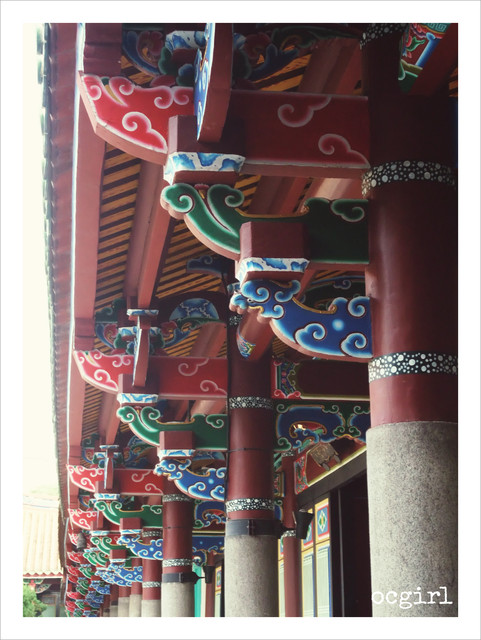 最期待的雅樂舞出現了
The dance I was here to see "Ya Yue Dance"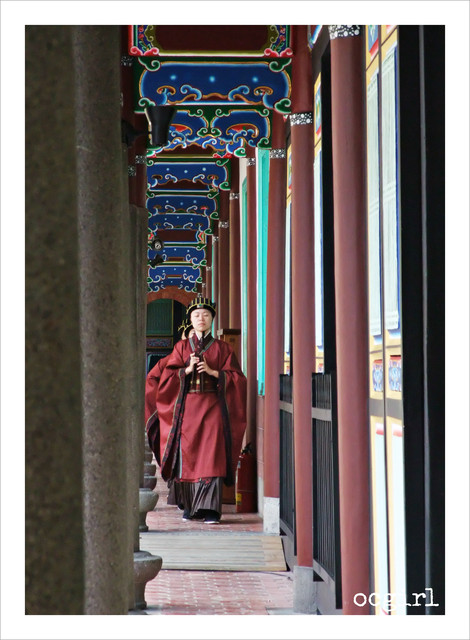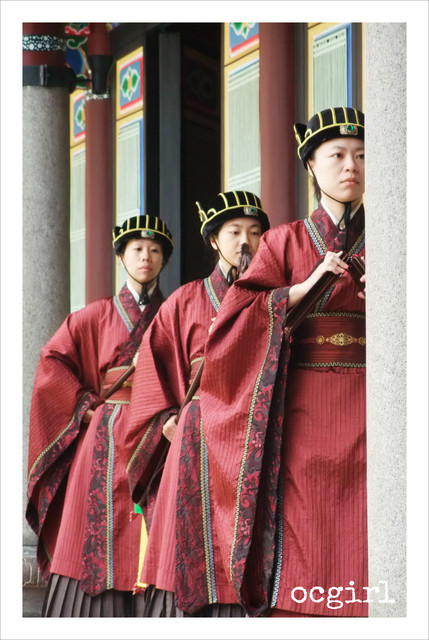 原來, 雅樂舞源自明朝是祭孔的一種儀式
難怪服裝怪異~
Turns out "Ya Yue Dance" is a type of ceremonial dance dated back to the Ming Dynasty and typically danced every year on Confucius' birthday (which is also "Teacher's Day" in Taiwan).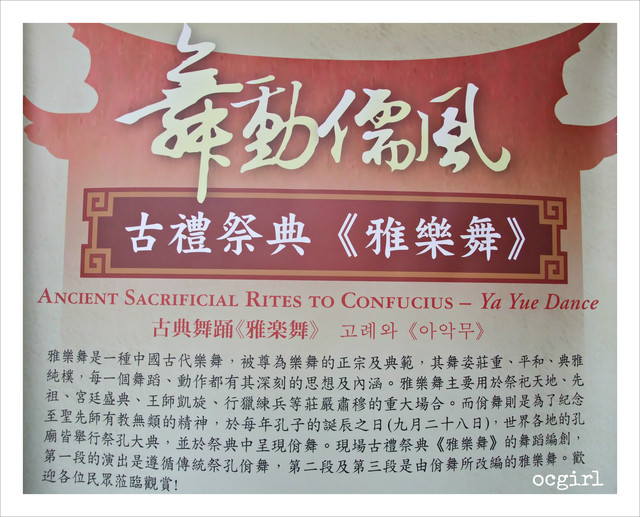 說了這麼多, 來看看影片吧~
Without further further ado, check out the two video clips below
<
老實說舞蹈有點沉悶
難怪只表演30分鐘….
不過還滿