奶油起司義式野菇餃
http://www.foodnetwork.com/recipes/giada-de-laurentiis/wild-mushroom-ravioli-with-butter-and-parmesan-sauce-recipe/index.html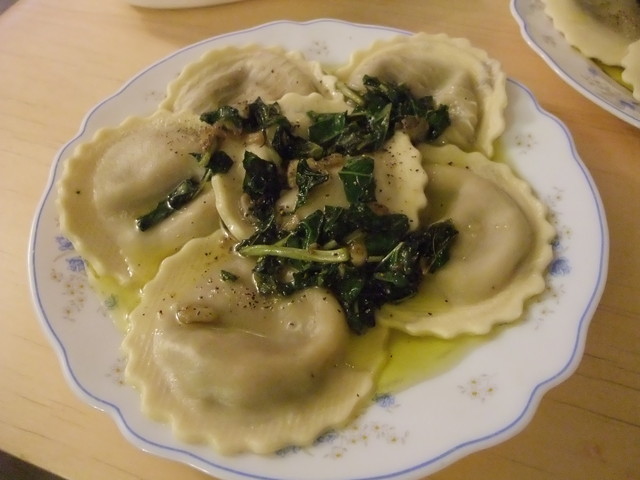 我決定另闢一個新單元了, 免的文章太零亂
雖然叫做"我家廚房"可是內容純粹是紀錄些我家煮的一些東西罷了~ 都是煮好玩的, 不能跟我周遭的料理高手比, 所以不要跟我說"煮那樣的菜也敢拿出來po啊?"之類的話喔! 我已經先聲明了
今天講得這個是奶油起司義式野菇餃 (Wild Mushroom Ravioli with Butter and Parmesan Sauce), 最特別的是這是我弟做的呦!!!

我弟是個超級大懶人, 也算宅男一族, 可是對做菜這件事卻不曉得為甚麼比我"咕啦"的多~ 本來我試打算用現成的蘑菇醬就好了, 可是他花了半小時又切又煮的

(我跟我弟最大共通點就是都很愛吃, 我們每天的對話大概有80%都和吃有關~ 不過想一想似乎和我同姓的家族成員都有這一特性~ 哈哈)
食譜是Food Network網站抓下來的。Food Network是個美國全天以食物為主題的有線電視台, 不曉得台灣有沒有撥他們的節目? 滿好看的又有教育性~
食材方面:
2 packages (11-ounce) fresh wild mushroom ravioli
(野菇餃, 又叫portobello ravioli, Trader Joe 買的, 和起司, 沙拉那些擺在一起, 一包12粒US$3.99)
1 cup unsalted butter
(奶油, 但我弟用橄欄油代替)
1/2 cup fresh basil leaves
(羅勒, 超市都有, 可用九層塔代替)
6 tablespoons toasted pine nuts
(松子, 我在Whole Food看到一磅居然要US$16.99, 嚇死人的貴, 就沒用囉)
1 whole nutmeg or 1/2 teaspoon grated nutmeg
(肉豆蔻粉, 超市放香料的地方就有)
2/3 cup grated Parmesan
(起司粉)
步驟 (懶的翻譯, 有問題再問)
Cook the ravioli in a large pot of boiling salted water until just cooked through, about 5 minutes. Drain and put on a platter.
Meanwhile, cook the butter in a heavy medium frying pan over medium-high heat until pale golden, about 4 minutes. Add the basil leaves and cook until lightly fried, about 2 minutes. Add the pine nuts. Pour over the cooked ravioli. Grate 1/2 teaspoon of nutmeg directly over ravioli. Sprinkle Parmesan over dish and serve.
以不到美金五元的成本還不錯吃~ 裝盤很漂亮, 如果有加松子應該會更香。 起司粉用的事最便宜綠色包裝那種, 換成新鮮的Parmesan 會更好~
好啦, 今天就醬了
(照片是新的相機照的, 不錯吧? 改天再講相機的事)